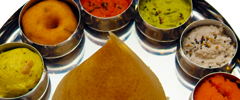 The first pure vegetarian restaurant, Aryaas was launched in 2007 which even today enjoys the reputation of being the finest restaurant of its kind offering a diverse range of cuisine.
Opening Hours :
Sat-Wed : 7 am - 11:30 pm
Thursday : 7 am - 12 midnight
Friday : 7 am - 10:45 am
12:30 pm - 12 midnight
Location Details:
Al Meera Complex (Mansoura), B-Ring Road (Muntaza), LuLu (Barwa City), ICC Canteen (Abu Hamour)
Tel : 4443 9555 / 4436 0097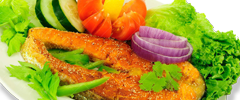 Chettinad Cuisine is a centuries-old way of cooking a whole spread of dishes with the Indian staples of rice and lentils, vegetable and meats enhanced by handpicked and exotic spices, herbs and aromatic leaves.
Opening Hours :
Every Day : 6:30 PM - 11 PM
Location Details:
Chettinad, Al Meera Complex Mansoura
Aryaas Lounge, Lulu Food Court, Barwa City
Tel : 4441 9668 / 4437 4455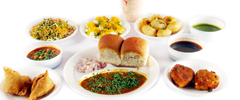 The Mumbai Chaat under expert chef guidance and entire crew from Rajasthan are having over four decades of experience in chaat. They offer Doha residents an inventive mix of regional flavours and light snacks from Gujarat, UP, Delhi, Calcutta and other regions of India.
Opening Hours :
Every Day : 4:30pm - 12 midnight
Location Details:
Mumbai Chaats, Al Meera Complex, Mansoura
Tel : 4441 9668 / 4443 9555